Free Shipping on orders over $150*
We are delighted to offer you every day free shipping on orders over $150.
This is calculated AT THE CHECKOUT, based on what you've put in your cart, whether there are any exclusions and what discounts apply. Please see below for exclusions.
The Cart Shipping Estimator does not exclude the bulky and heavy items from our calculation, due to a technical issue. So please check shipping AT THE CHECKOUT for excluded items, such a mattresses and furniture,
To receive free shipping, your spend must be over $150. So if you apply coupons or loyalty points discounts that take your spend under $150, the free shipping threshold will not be met and you will be charged shipping.
Please note that Gift Vouchers and Gift Wrapping are not included in your $150 calculation for free shipping.
From time to time we may run Free Shipping offers on a reduced threshold (e.g. Free Shipping on orders over $49) for Account Holders or VIP's. Please note, the usual exclusions apply for these offersas detailed below.
All Heavy and Bulky items are also excluded from our Free Shipping Offer. Usual examples include:
All nursery furniture items - eg cots, bassinets, baskets & dressers

Travel cots

Mattresses

Bed Rails and large bumpers

Duvet Inners

Demonstration dolls
How do I check my order & delivery status?
Make sure when you place an order you do so through your account - not as a guest. Guest accounts don't get points, purchase history and the ability to log in to check your courier tracking. If you have an order placed you can check on it's delivery status through your account page after you log in. Just click the "My Orders" tab to get order progress info as well as tracking details if it has been dispatched.
All orders will receive a Shipping notification email which contains your courier tracking details. This gets sent to your inbox at the point at which your order is checked out and ready for the courier to collect from our warehouse.If you can't find the email, log in to your account and check there - as mentioned above.
Christmas Delivery Dates
We will be shipping orders right up until the 3pm on Friday 22nd of December with our 5-star speedy pace. All couriers experience a surge of packages through their depots just before Christmas, expect shipping to take a little longer than normal as the couriers work through a greater number of packages to process through their networks. Below is our calendar to give an idea of if you can expect a package to arrive before or after Christmas public holidays based on the when we receive your order. Remember that you can check your order status and get your courier tracking number through your SleepPoints account. Just login and go to 'My Orders' to view the details. For Western Australia and rural areas, please allow for extra time for delivery.
Sending by the Christmas cut-off dates gives you the best chance to get your item where it needs to be for Christmas. The actual date of delivery may change due to unforeseen service impacts.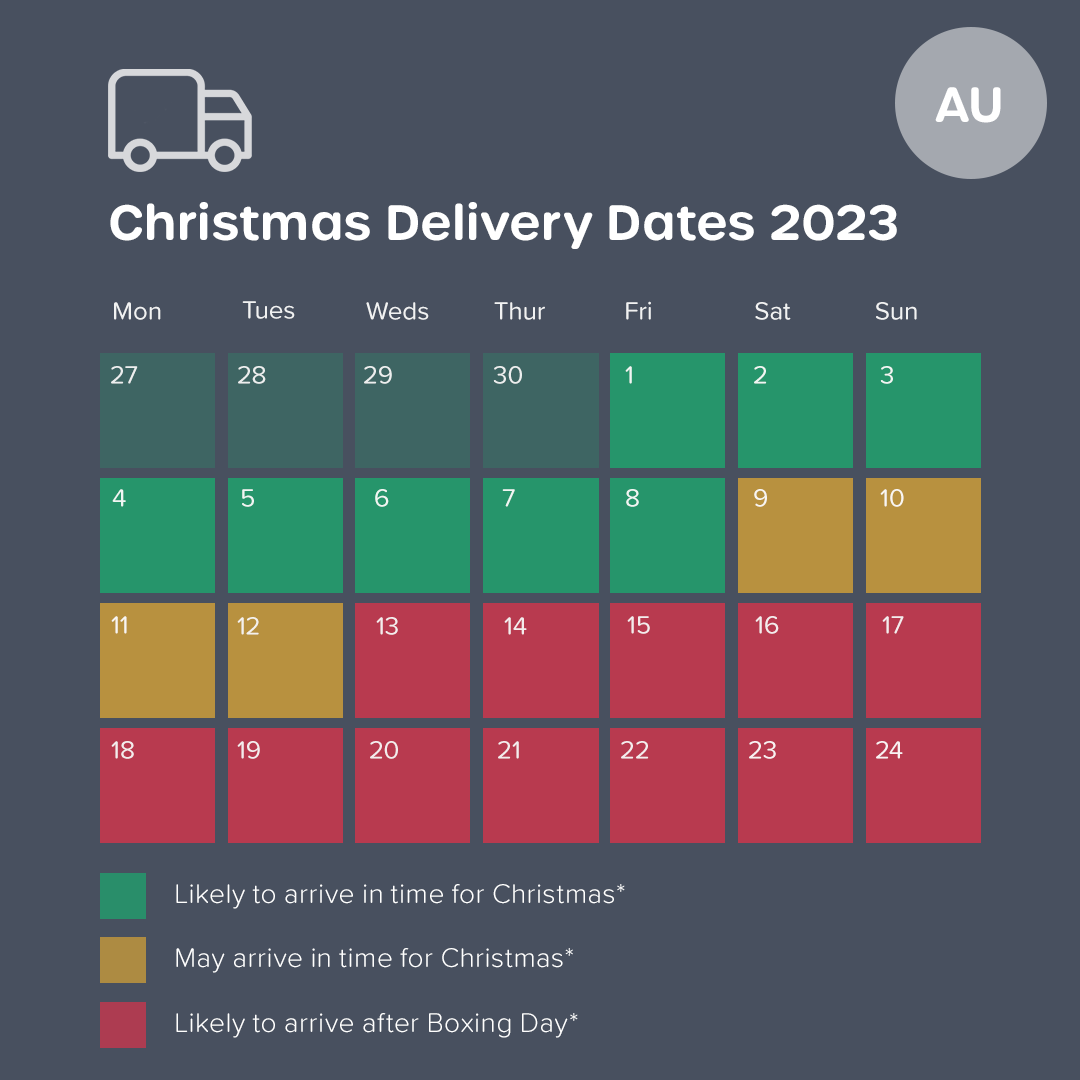 You can be confident that what you order from us is available for us to dispatch immediately from our Auckland warehouse.
If an item is available on our website to order then it's on our shelves, in our warehouse and ready to send to you.
The exceptions to 'In Stock, Ready to Ship' are items that you order in a custom size or that are clearly 'Pre-Order' or 'Notify Me'. If an item is out of stock, you can use the 'Notify Me' feature to be emailed when the item is back in stock.
On the very rare occasions we come across a damaged or incorrectly counted item of stock when we come to pick your order for dispatch, we'll be in touch, let you know what's going on and work out a solution with you.

We offer fast, economical shipping to customers in Australia. We ship every working day from our New Zealand warehouse, with a daily cut-off of NZ 1pm.
All items on our website are in stock, ready to dispatch (excludes pre-order or custom size items).
Shipping starts from $15 for small items. Just add your items to your cart and use the Shipping Estimator in the Mini Cart or Cart with your post code.
Shipping times vary depending on where in Australia you are and whether your package is sent with Toll Priority (most packages) or Omni/Australia Post (heavy or bulky items), Toll delivery time is approx 5 working days into main centers, and 5-7 working days outside main centers. Delivery time-frame with Omni/Australia Post is approx 10-15 working days. however we cannot guarantee these times.
Please allow additional days if you are rural or if you are ordering during holiday periods or major promotions.
All orders, sent with Toll, under $300 will be sent with an Authority to Leave sticker unless Signature required is noted on the delivery instructions in your order. However, if the order is sent to a Business Address a Signature will be required and any orders over $300 will be sent with Signature required.
Note: All orders sent with Omni/Aus post will require a signature only.
Would just like to thank you so much for your incredibly speedy delivery...I ordered my goods yesterday morning and was so excited to have them turn up on my doorstep just an hour ago !! Thank you to all the team I will be recommending you to all my friends !!
Tess
We dispatch every weekday to Australia and orders are usually dispatched within one business day of the order being placed.
Delivery time-frames with Toll are approx 5 working days into main centers, and 5-7 days outside main centers.
Delivery time-frame with Omni/Aus are approx 10-15 working days.
Please allow an extra 1-2 days for delivery after a public holiday, as there is always a large back-log with both The Sleep Store orders and courier companies. Major promotions can also result in a short delay due to higher order numbers for our team to process.
However please note we cannot guarantee these times. It is important to remember that we are shipping internationally and delays may occur due to flights between New Zealand and Australia, customs and the local courier services or Aus Post in Australia.


Sales Tax & Customs Duty on Australian Orders
All prices shown on our website include 10% GST (if applicable).
If your total order is under AUD$1000 - 10% GST is applied and collected by The Sleep Store.
If your total order is over AUD$1000 - The Sleep Store will not collect GST. Where Australian Customs seeks collection of GST and/or other duty as part of the import of goods into Australia, payment of such amounts is the responsibility of the purchaser.
Which Courier Do We Use?
We use Toll Priority and Omni / Australia Post for our shipping to Australia. Most packages go with the quicker Toll Priority service, however we may need to ship your order with the Omni service if it is heavy or bulky as these are too expensive to ship with Toll.
Signature Required Service versus Authority to Leave
All orders, sent with Toll, under $300 will be sent with an Authority to Leave sticker unless Signature required is noted on the delivery instructions in your order. However, if the order is sent to a Business Address a Signature will be required and any orders over $300 will be sent with Signature required.
Note: All orders sent with Omni/Aus post will require a signature only.
Theft or Dog Issues
If you have had issues with packages or mail being stolen, please let us know so your order is not left without your signature. Please ensure you advise us if you have a dog who could access a package left by the door so we can ensure it is only sent signature required. Sounds crazy but we have had a few packages eaten over the years!
Large or heavy orders
These are generally sent with our slower Omni / Australia Post service. please allow at least 10 working days. Please contact us before placing your order if you have questions
PO Boxes & Parcel Lockers
Any order going to a PO Box or Parcel Locker will be sent with Omni or Australia Post
Urgent Orders
If your order is particularly urgent, please contact us to discuss what is possible and note this on your order. We will do what we can but can't make promises for deliveries outside the timing guidelines above. Alternative shipping may be available through express services such as Fedex however these would usually cost at least 3 times our normal shipping and delivery can still not be gauranteed within a specific time.
Tracking Courier Packages
If your order has not arrived in the time frame above, please refer to your automated email containing your tracking number. We are happy to speak with our NZ based shipping agent if necessary however in our experience issues are most quickly resolved by the customer speaking direct to the courier to describe specific features of the home where it may have, or can be left.
If no-one is available to sign at the time of delivery, Toll will take your parcel back to an ADP or their depot. This needs to be collected within 7 days or it will be returned to The Sleep Store. Any issues or to arrange a collection you can call your local Toll on 13 15 31